The Science of Nurturing Infant and  Caregiver through Music and Movement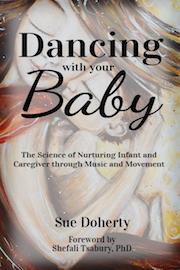 2021 Audiobook 3rd Edition Available on Amazon, Audible, and iTunes
Sample audiobook on SoundCloud
March 12, 2021  Amazon — paperback, e-book, and audiobook.
Anthropologist & certified mindfulness teacher Sue Doherty explores why when a baby is in our arms we instinctively begin to rock them back and forth, especially to music. She weaves together fascinating interdisciplinary research in psychology, neuroscience, infant development, and music and movement therapy to explain why and how to engage in the activity so both participants may thrive.
Author interview on YouTube with Sue Doherty and Julia Greensmith of joyfulconnectionswithjulia.com
PRAISE FOR DANCING WITH YOUR BABY
"In Dancing with Your Baby, Sue Doherty artfully demonstrates the power of dance, revealing its ability to enhance an infant's sense of wellbeing. Writing eloquently, she thoroughly documents the most current research in the fields of infant psychology and neurobiology, articulating the value of dance for creating a strong parent-child connection.

"Every parent wants their child to feel connected, validated, and treasured. Dancing with Your Baby is a wonderful tool parents can use to develop deep, attuned connectedness. Since children internalize how their parents relate to them on a verbal and physical level, what better way to create this essential foundation than through dancing with them?"
Dr. Shefali Tsabary, clinical psychologist and author of The Conscious Parent and Out of Control.
"This book is a great blend of practical and creative methods, resting on a solid scientific foundation. Sue Doherty offers wonderful ways to nurture young children — and their parents."
Rick Hanson, Ph.D., New York Times best-selling author of Hardwiring Happiness, Buddha's Brain, Just One Thing, and Mother Nurture.
"Doherty uses language that is accessible, colorful, and rich with imagery. This book is a must-read for any parent, caregiver or soon-to-be parent interested in learning about the incredibly dynamic, rewarding, stimulating techniques for bonding with their baby that Doherty advocates."
Michael Hogan, Ph.D., senior lecturer or neuropsychologist at National University of Ireland, Galway; and Julia Dimitrova
"Integrating dance and musical activities into the parent-infant relationship is a wonderful way for everyone involved to feel socially connected, to be physically active, and to have fun. Sue Doherty carefully outlines safe, flexible, and age-appropriate ways to build dance into your baby's life, while exploring how infant cognitive, social, and motor development shape these activities"
 Laura Cirelli, Ph.D., Postdoctoral Fellow in Psychology at the University of Toronto Mississauga, Canada
"When we first started teaching classes there wasn't much information on the benefits of dancing with your baby (still isn't), but we did find Sue Doherty's book and totally resonated with it. She is the leading pioneer in our field."
Amber and Meeshi Anjalind, co-founders of GroovaRoo Dance (the babywearing dance group that went viral).
"This book is an incredible resource for parents who long to be deeply connected to their children. Dancing with your baby offers so many practical ideas backed up by diligent research. Sue has such a passion for supporting deep attachment between parent and child."
Michelle Gale, Author of Mindful Parenting in a Messy World
"This book is peppered with quotes and cutting edge research findings by psychologists and neuroscientists and vouch for Sue's erudition and thorough ground work. It would make for a good gift. If you are expecting a baby or a parent of a newborn, go buy this book and start dancing with a light step and a song in your heart!"
Sandeep Gautam is a psychology and neuroscience blogger at The Mouse Trap and at the Psychology Today blog The Fundamental Four. He also blogs at the Creativity Post, and his blog for The Times of India is called Mind Cafe.
"So many parents do what is necessary only, but do not take into consideration the baby's needs. Babies turn into adults and we want to nurture our children, so they become confident, caring and nurturing adults. Reading this book, Sue Doherty, does a brilliant job of explaining the importance of touch and deep love for a baby. I, highly, recommend this book for anyone who is about to have a baby, or has one now. We need to begin to dance with our babies!"  
Joyce Knudsen, Ph.D. founder and president of The Imagemaker, Inc. a Master Life-Coach, Impression Management Consultant and Company Branding Expert
"Wow! A must read for caregivers everywhere! We, adults intuitively know, and science is proving, that music is powerful medicine, especially for babies. Partaking in music and dance is a rich form of self care. Sue's beautiful book is full of convincing evidence and simple steps to inspire action that will fill your heart and change your life."  
Suzi Lula, Best Selling Author, "The Motherhood Evolution" and Agape Licensed Spiritual Counselor
See a thorough book review in Psychology Today here; and in The Mouse Trap blog.
Sue explains to Meeshi Anjali, founder of GroovaRooDance (babywearing dance classes & teacher training,) the meaning of her coined word for "dancing with your baby" "kinergetics" 
Listen to the podcast of  Armin Brott (Mr. Dad)'s "Positive Parenting" radio show author interview with Sue: